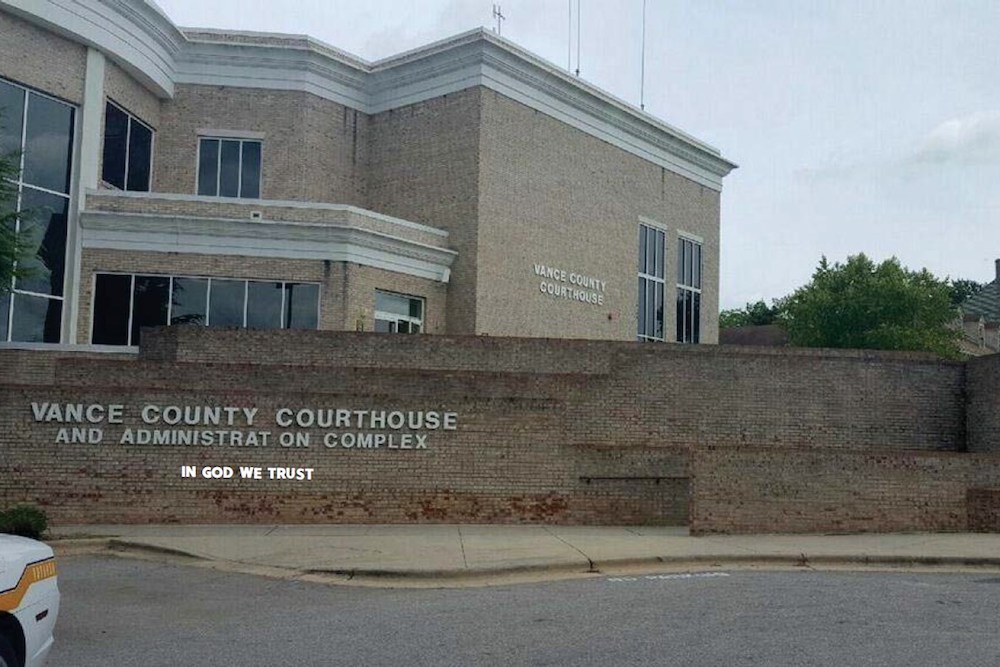 Vance County Courthouse | Photo courtesy of Vance County
The family of a Vance County Middle School student wants increased legal charges against a school resource officer and an assistant principal after two alleged assaults on two students on Dec. 12.
Vance County Middle School Resource Officer Warren Durham was fired after a video became public showing him body-slamming a sixth-grade boy multiple times, then dragging the boy down the hall. The boy, 11, was taken to the emergency room.
Durham has been charged with misdemeanor charges but the boy's family wants the charges upgraded to felonies.
On the same day at the school, a 12-year-old girl, Mik-Tazza Wynn, was allegedly slammed into a locker and had her shoulder dislocated by Assistant Principal Kevin Ross. The school district suspended Ross on Dec. 19, pending the findings of an investigation.
The boy's family wants felony charges against Ross as well, but the district attorney's office had not decided about filing charges against Ross as of Jan. 7.
On the charges against Durham, the district attorney previously said the law would not allow felony charges in the case due to the extent of the child's injuries.
Shortly after the incident involving Durham, a sheriff who saw a video of the assault requested investigations from the District Attorney's Office and State Bureau of Investigation, District Attorney Mike Waters said in December. At the time, no concussion had been diagnosed, which was one of the factors determining misdemeanor rather than felony charges, said Waters.
The child has since been diagnosed with a concussion, according to his family.
Durham was charged with assault with a child under 12, willful failure to discharge duties related to his employment, and child abuse. He posted bond and was released. His next court date is Feb. 3.
"As a part of this investigation, we will be seeking to make sure that Mr. Durham does not ever serve as a law enforcement officer again here," Waters said.
At a press conference on Jan. 7, John Miles, the boy's grandfather, said the 11-year-old is still having effects from injuries. Miles said both students are not returning to the school.